This working group is in formation, the text below outlines the main discussion points from the launch event. Please contact Tony Herrmann at [email protected] if you wish to get involved.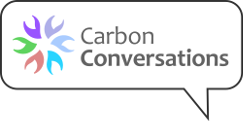 Discussion and Action Points

In order to reduce carbon usage, the behaviours of societies need to change.
Carbon Conversations are something best done locally in neighbourhoods and requires some training. However any group who live in relative proximity could get involved.  For full information visit www.carbonconversations.org. At an individual level we can look at our lives and see what areas are making a big impact on our emissions, and see what will happen if we change them. Many people make personal sacrifices doing things they think are saving lots of energy, or purchase energy saving devices, but when you look at data you discover they actually aren't doing much. A carbon budget tool helps people see what actions can actually make a big difference, and can be introduced through Carbon Conversations.
Carbon Conversations Groups are support groups which help people reduce their carbon footprint – on average by about 50%.  The groups help individuals face the challenges of these changes in groups of 6-8 with trained mentors, providing:
A place for people to understand what climate change means for themselves and their families.
A support network to discuss the issues of the change.
Practical guidance on what changes actually make a difference.
Resources to create a personal action plan (over 4/5 years).
Professional and simple resources to cover climate change basics and the four key areas of the footprint – home energy, travel, food and other consumption.
Basic facilitation training is required to run the groups (around 10% train to become mentors).
A Carbon Budgeting tool has been developed by Anna Marie Byrne. 'Personal Carbon Tracker' is a website which allows individuals to track and calculate their carbon usage, making it easier for individuals and households to reduce their carbon footprint. This could be promoted as a tool for individuals through Carbon Conversations.  (More at http://personalcarbontracker.weebly.com/track-your-carbon.html).
"A developed country isn't a place where the poor have cars. It's where the rich use public transportation."
– Gustavo Petro