Holy Trinity Church on Boar Lane in Leeds is hosting the touring Gaia
Earth artwork by Luke Jerram, as the centrepiece of Our Earth, Our City.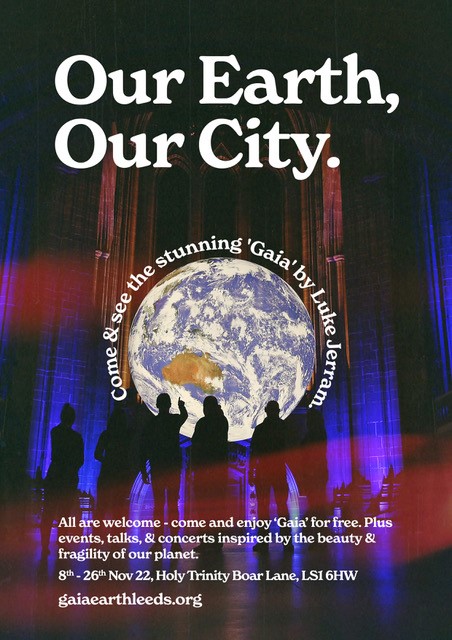 Our Earth, Our City aims to provide opportunities for people in Leeds to
engage with the beauty and fragility of our planet by visiting this inspirational artwork for free, and
through a series of special events. Gaia Earth is an illuminated, 6 metre in diameter, super-accurate
replica of our planet, created by Luke Jerram using detailed NASA imaging of the Earth's surface. It has
been displayed all over the world and visited by millions of people. Gaia is designed to recreate the
'overview effect' experienced by astronauts when they view the Earth from space.
Shuttle/ISS astronaut Ron Garan wrote: "When we loo
Our Earth, Our City offers an over-arching, positive ecological message, encouraging visitors to view
our planet with awe, to recognise the interconnectivity of life on earth, and to engage creatively with
how they can help to reduce the effects of climate change on our world. Alongside the Gaia Earth
globe, there will be a variety of exhibition materials and the opportunity for visitors to make practical
lifestyle commitments. There is also a programme of concerts and talks, and an art competition for all
ages.
Holy Trinity Church, Boar Lane is adjacent to the Trinity Shopping Centre, only a few minutes away
from Leeds train station. It is a Grade I listed building built in the 1720s, recently restored to offer a
beautiful space in the heart of the city centre. It is now home to a midweek ministry for city centre
workers. The Holy Trinity Café will be open during the exhibition opening hours.

Our Earth, Our City is free to visit, all are welcome, and no pre-booking is required during general
opening times, except for the Relaxed Space on Saturday mornings.
Holy Trinity Boar Lane Church, LS1 6HW, is open 8th – 26th November 2022 to see Gaia Earth:
Tuesday – Thursday: 1:00pm – 4:00pm
Friday: 5:00pm – 9:00pm
Sat: 11:00am – 5:00pm

Relaxed Space, Sat: 10:00am – 11:00am (A quiet hour, with limited visitors.) Pre-booking required.
Events include concerts, talks (Christian Aid, Leeds Sanctuary, Leeds Craftivists, Less Waste Laura), a
screening of Leonardo DiCaprio's film Before the Flood, and local sports stars popping in to say 'hello'.
For booking details please visit the WEBSITE.